Jurassic World Unleashes A Ton Of Dinosaur Mayhem In New Footage From CinemaCon
It was just this past Sunday that Universal Pictures released the brand new trailer for Jurassic World, revealing some previously unseen footage, and putting on a show of some serious dinosaur action. Well, it turns out that wasn't the only big preview that the studio had planned for the upcoming blockbuster this week, as a brand new sizzle reel just debuted at CinemaCon.
Wrapping up the week for the Las Vegas-based theater owners convention, Universal had their big studio presentation this afternoon, and after showing off a great deal of footage from a number of films on their upcoming slate, the company closed things out by debuting clips from Jurassic World edited together for the CinemaCon crowd. Director Colin Trevorrow and star Chris Pratt were on hand to introduce the footage, promising big things for the blockbuster this summer.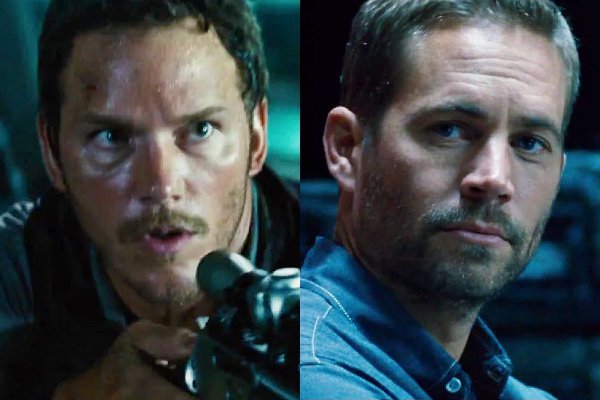 Rather surprisingly, the reel began with not dinosaur action, but instead a wild pig running through what looks like a wild forest – pretty clearly running from something in fear. A voice calls out that there is a pig on the loose, and it becomes clear that the pig isn't actually wild, but instead running around inside of a dinosaur paddock. From a trestle way above, a Jurassic World employee reaches down with an animal wrangling pole, but discovers in the worst way that the pig is moving too fast. This is because he winds up actually getting knocked off the railing and falls into the enclosure below. This wouldn't be that bad, but the pen actually belongs to a pack of Velociraptors who are hunting and very happy to have a new kind of meat locked in with them. This sends everyone into alert mode, but it's Owen Grady (Chris Pratt) who comes to the rescue, getting out in front of the fallen employee and holding out his arms in the hope of calming the creatures down.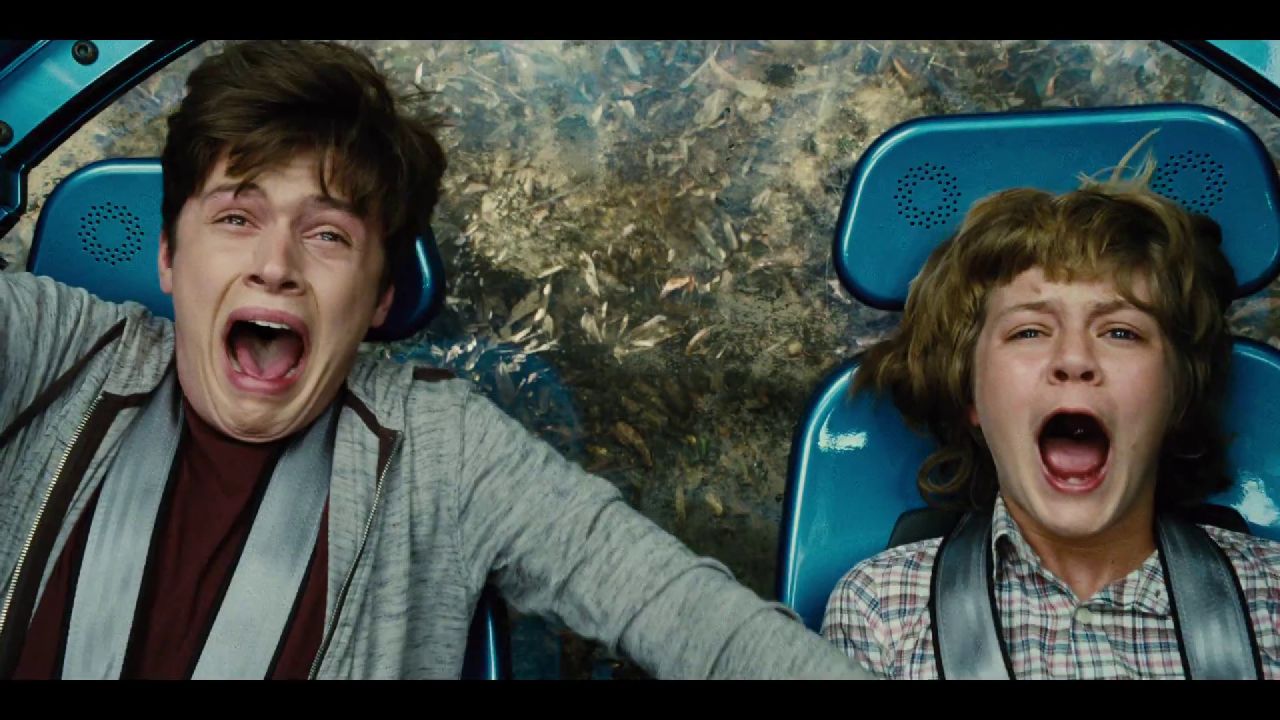 From there we see some of the footage that has already been in the trailers about the brand new attraction at Jurassic World, the genetically modified Indominus rex. It's explained by Bryce Dallas Howard's Claire Dearing that ticket sales spike whenever a new attraction is introduced, so corporate has decided that it would be best to introduce a new kind of dinosaur: one that is made from a secret cocktail of DNA and "built" to be bigger than the T-rex. Things start to get scary when it's revealed that this new dinosaur actually killed its own sibling while in captivity, but things get much, much worse when it's discovered that the creature is escaping.
From there we see Owen right outside of the Indomnius rex pen during the breakout, and he is understandably terrified. He hides under a truck as he watches people around him get stepped on and eaten, and then takes the initiative to crack the car's fuel line and cover himself in gasoline to hide his scent. With nobody left to kill, the Indomnius rex begins to sniff around for more prey, and while Owen does his best to stay absolutely still, the giant dinosaur's maw appears right next to the vehicle, both sniffing around and baring its teeth.
From this moment the footage cuts and has Owen calling for evacuation of the park – but in what very well could be an homage to Jaws, it's explained by Claire that the Indominus rex is four miles out from the rest of Jurassic World and that evacuating the park is an overreaction. Unfortunately, it's becoming clear that the loose dino is very interested in where it stands on Earth's food chain, and Owen warns that what it winds up discovering only spells bad news. The creature's intelligence is demonstrated when it's noted that it has managed to remove its embedded tracking chip, and things only get worse when Owen and Claire find a field of dead Apatosauruses and realize that the dinosaur is not killing for food, but instead for fun.
The sizzle concluded with two sequences, the first moving away from the Owen and Claire action and instead focusing on Zach and Gray, the young brothers played by Nick Robinson and Ty Simpkins. They are in a travel orb checking out Jurassic World, and have slowed down to check out a pack of Ankylosauruses. Zach remarks how incredible it is to be so close to four living, breathing dinosaurs – but Gray corrects him and tells him that he means five. While the former doesn't understand what he means at first, they both then turn to discover that the Indominus rex is right behind them, and begins to do its best to break into the orb.
Finally, the action then moved into the park proper, where Pterodactyls have been set loose from their enclosure due to a crashing helicopter, and begin terrorizing the many patrons of the theme park. One of the flying dinosaurs manages to grab a person and drops them over water – but then a giant Mosasaurus leaps out of the water and snatches the Pterodactyl with its giant jaws.
It was definitely a cool preview that did a good job of further exploring some of the interesting elements revealed in the trailer earlier this week, and we're excited to see how it all comes together when Jurassic World arrives in theaters on June 12th.
https://www.robotdinos.com/wp-content/uploads/2015/04/jurassic-world-parody-600x315-c.png
315
600
robotdinosaurs
https://www.robotdinos.com/wp-content/uploads/2018/05/robotdinoslogo.png
robotdinosaurs
2015-04-24 06:56:09
2015-04-24 06:56:09
Jurassic World Unleashes A Ton Of Dinosaur Mayhem In New Footage From CinemaCon