Jurassic World movie spoilers: Rumors of trilogy; Chris Pratt to battle Indominous Rex this time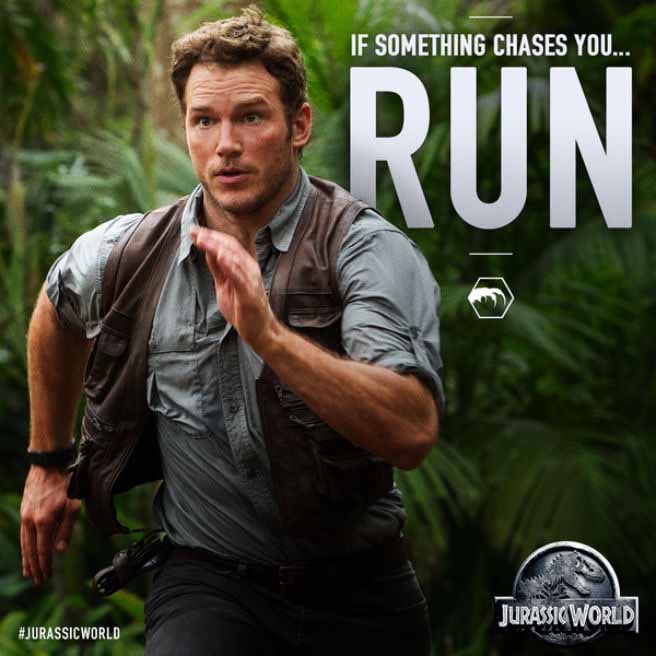 " Jurassic World," the highly anticipated fourth installment of director Steven Spielberg's dinosaur film series " Jurassic Park," is set to be released on June 12 this year. The movie's teaser trailers have generated huge excitement among fans and feature prominent actors in the new film in a refreshing change since the original film was released 22 years ago.
In the upcoming Jurassic World film, Chris Pratt plays Owen Grady, a dino wrangler who can control the velociraptors in the park. Pratt is joined by Bryce Dallas Howard, who portrays Claire Dearing, the resourceful and adventurous caretaker of the dinosaur park. Other artistes starring alongside Pratt and Howard in Jurassic World will be Jake Johnson, Judy Greer, Nick Robinson, Ty Simpkins, Katie McGrath, Vincent D'Onofrio, Lauren Lapkus, Omar Sy, and Jurassic Park's scientist BD Wong.
Breaking away from the trend in previous " Jurassic" films of featuring the T-Rex as the most heavyweight dinosaur that causes great damage to victims and even kills them, the " Jurassic World" trailer shows a different dinosaur wreaking havoc this time. The dinosaur featured in the upcoming Jurassic World film is called the "Indominous Rex" who is believed to have been created after an experiment to increase visitors to the park goes horribly wrong, making it the scariest dinosaur ever.
In the latest tweet from Jurassic World, a stunning photo features Chris Pratt running heroically, tweeted with the caption, "Don't look back. #JurassicWorld." The photo contains the text "If something chases you… run," the line that was uttered by Judy Greer to her son going to the dino park in the first Jurassic World trailer.
There are rumors that Jurassic World is a part of a trilogy series and will be followed by two sequels. Apparently, Pratt will make it past the first film to be joined by Omar Sy who works with him as a raptor tamer in the movie. However, there has been no official confirmation about the sequel rumors and fans will have to wait until June 12 to find out.
https://www.robotdinos.com/wp-content/uploads/2015/03/jurassic-world.jpg
656
656
robotdinosaurs
https://www.robotdinos.com/wp-content/uploads/2018/05/robotdinoslogo.png
robotdinosaurs
2015-03-19 07:41:00
2015-03-20 06:05:22
Jurassic World movie spoilers: Rumors of trilogy; Chris Pratt to battle Indominous Rex this time