24 Life Size Dinosaurs At Oxford Street – London UK 2008
In 2008 , Clients in the UK ordered 24 life size animatronic dinosaurs from us , which have been installed in the most busiest places in the UK – London Oxford Street .Millions of people go through this exhibition site everyday. Kids and overseas customers there can spent several hours or even a whole day with our animatronic dinosaurs
Meanwhile , this exhibition was regarded as the biggest dinosaurs exhibition show in the whole Europe.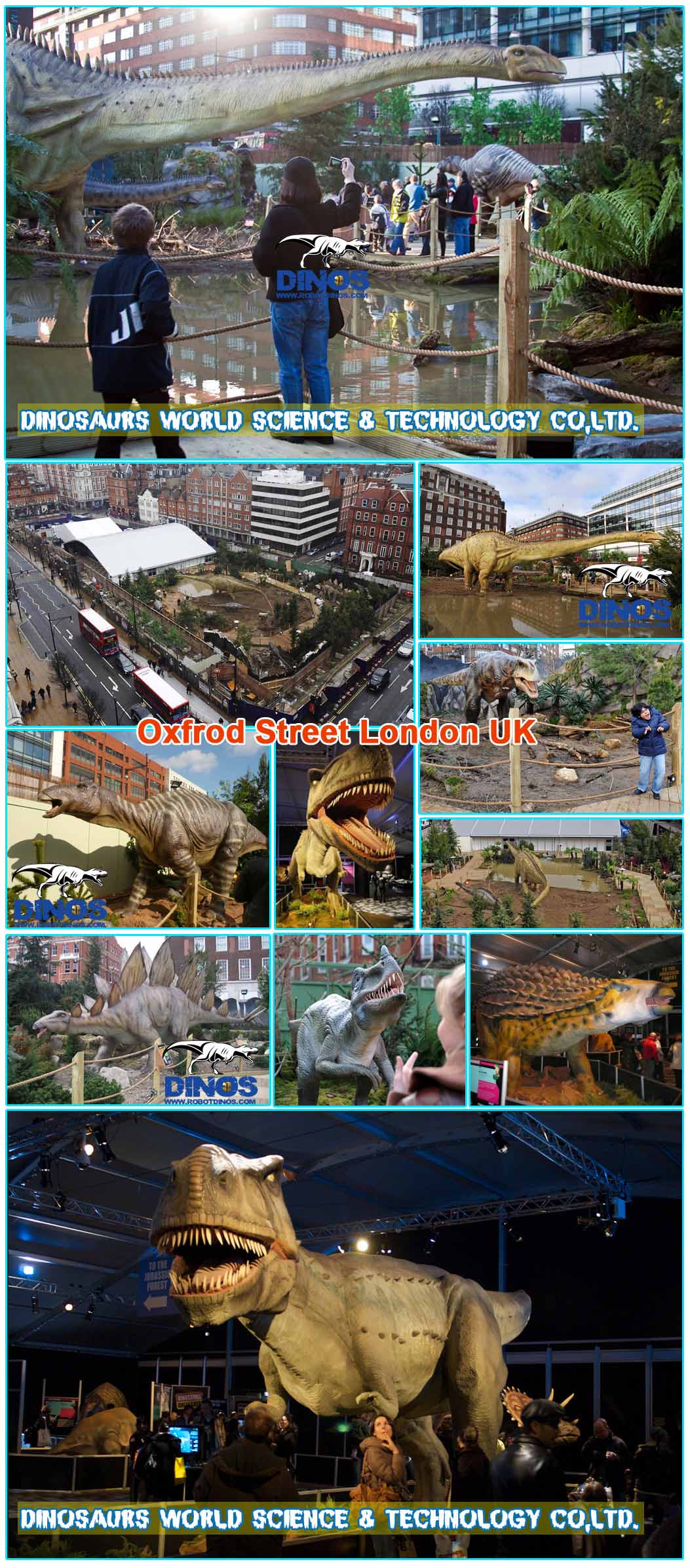 32 Units Animatronic Dinosaurs Order From Dinosaur Park In Czech Republic 2009
Clients In Czech Republic ordered 32units life size animatronic dinosaurs and dinosaurs skeleton from us in 2009. He has 4 dinosaur parks in Czech republic and these dinosaur parks were regarded as the biggest dinoparks in the whole Europe.
We are now become the long term business relationship partners and until 2015 we have already cooperated with each other nearly 7 years.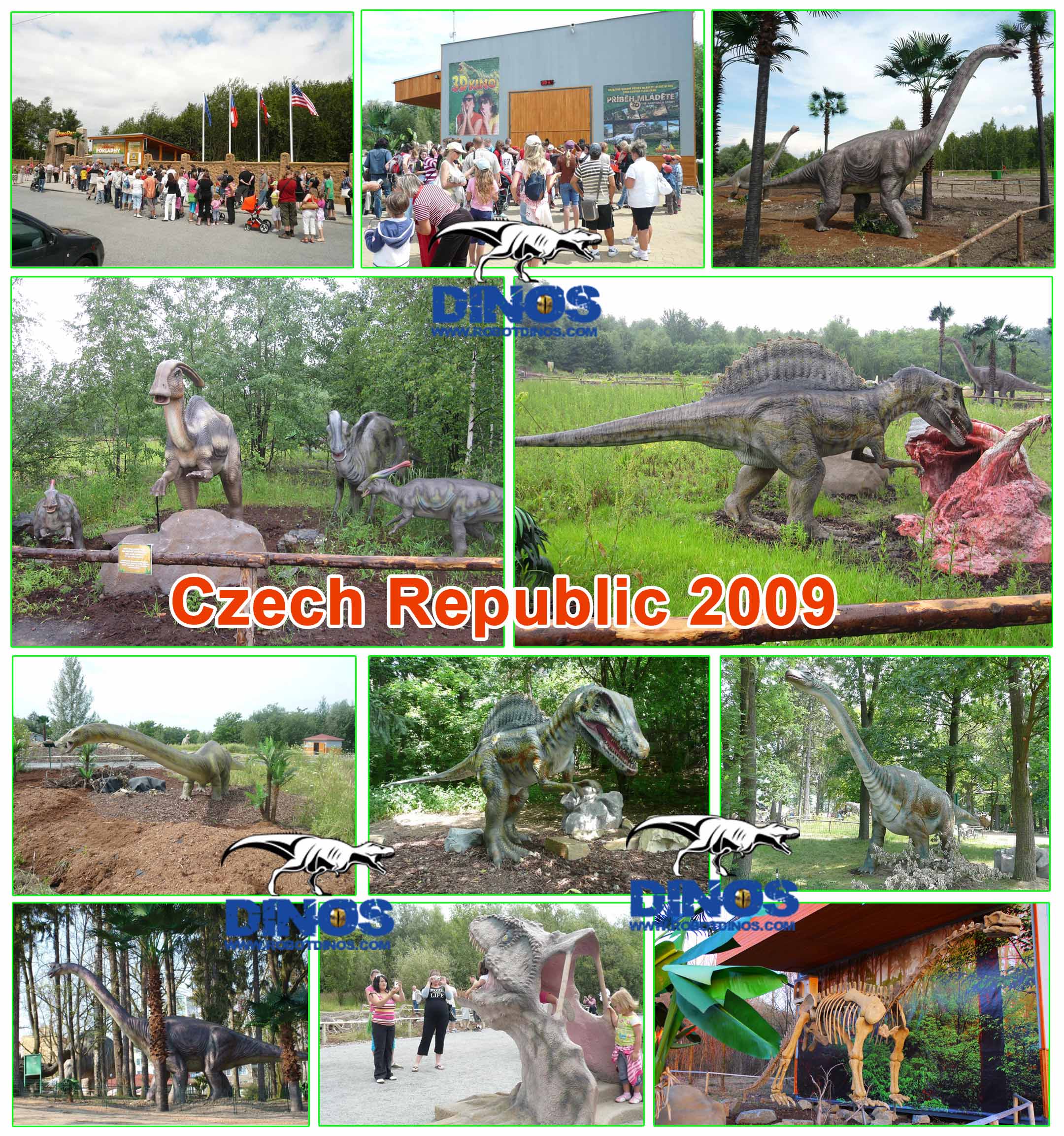 17units Jungle Animals Ordered By Cyprus Customer 2010
In order to make people's attention in front of the jungel & theme restaurant , Cyprus customer have ordered more than 17 units animatronic animals such as lion , leopard , giraffe, leopard , butterfly, orangutan , crocodile,rhinoceros,elephant etc…… from us in 2009 for his own theme forest restaurant at the beautiful tourist attraction-Larnaca. After these amazing animatronic animals displayed in his restaurant , the business are getting much better than before. People there can have delicious food , fresh drink and have fun with these animatronic animals. Do you like to spent a night there and have a great dinner ?
Now we are discussing the another order for customers five star hotel decoration near this restaurant.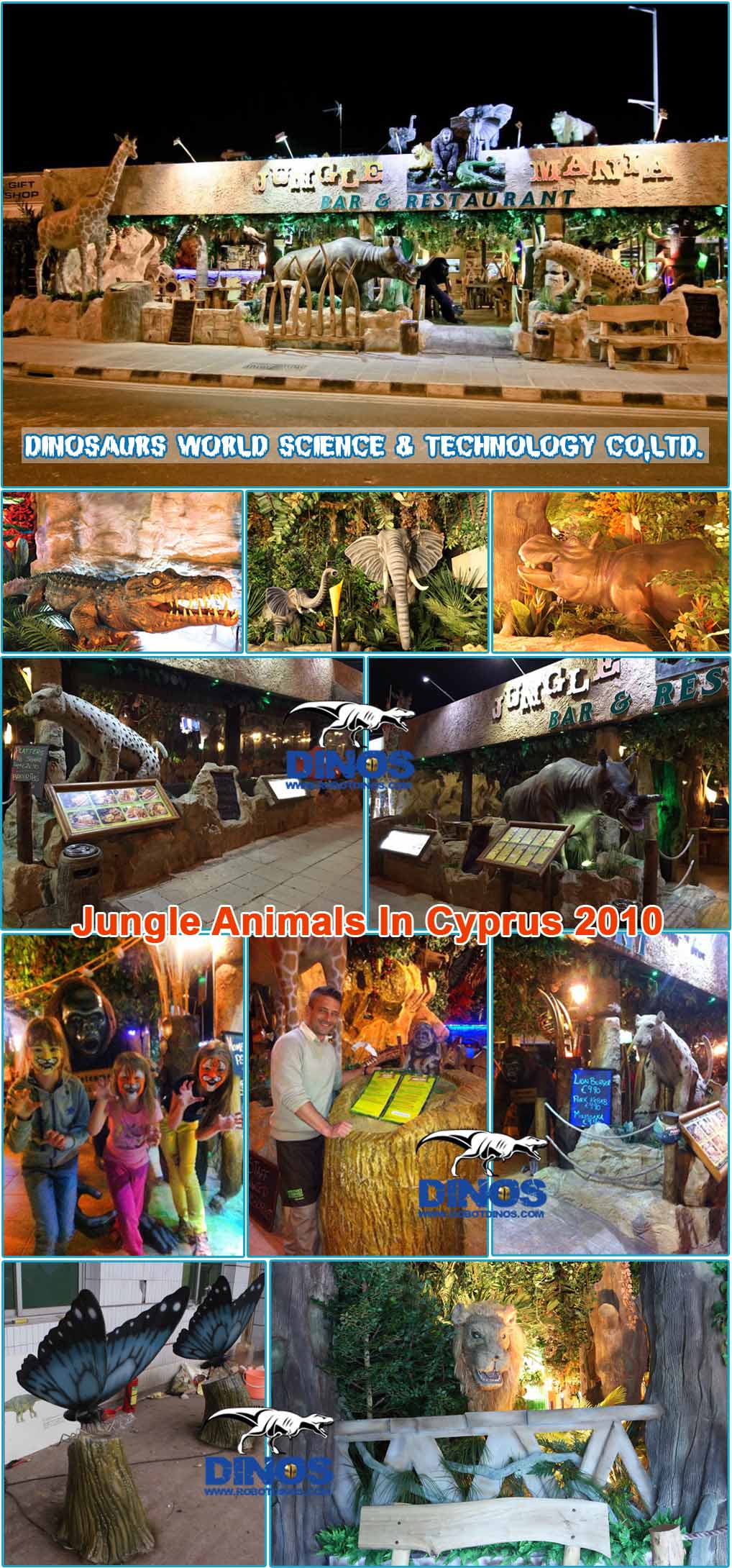 36 Units Animatronic Dinosaurs And Kids Entertainment Characters Ordered From Spanish Customer 2010
In the beautiful coastal city Valencia Spain , customer have ordered over 34 units animatronic dinosaurs , dinosaur skeleton and kids entertainment riding from us for the museum named Arts and Sciences Academy . After the dinosaurs exhibition on Oxford Street London , this sciences dinosaurs exhibition was regarded the best and greatest dinosaurs exhibition show in the Whole Europe.
One 21m long diplodocus is standing on the man-made river and visitors can take photos with this huge monster ! If you are traveling to Valencia right now , do go to this site and play with these Jurassic dinosaurs that you have ever seen.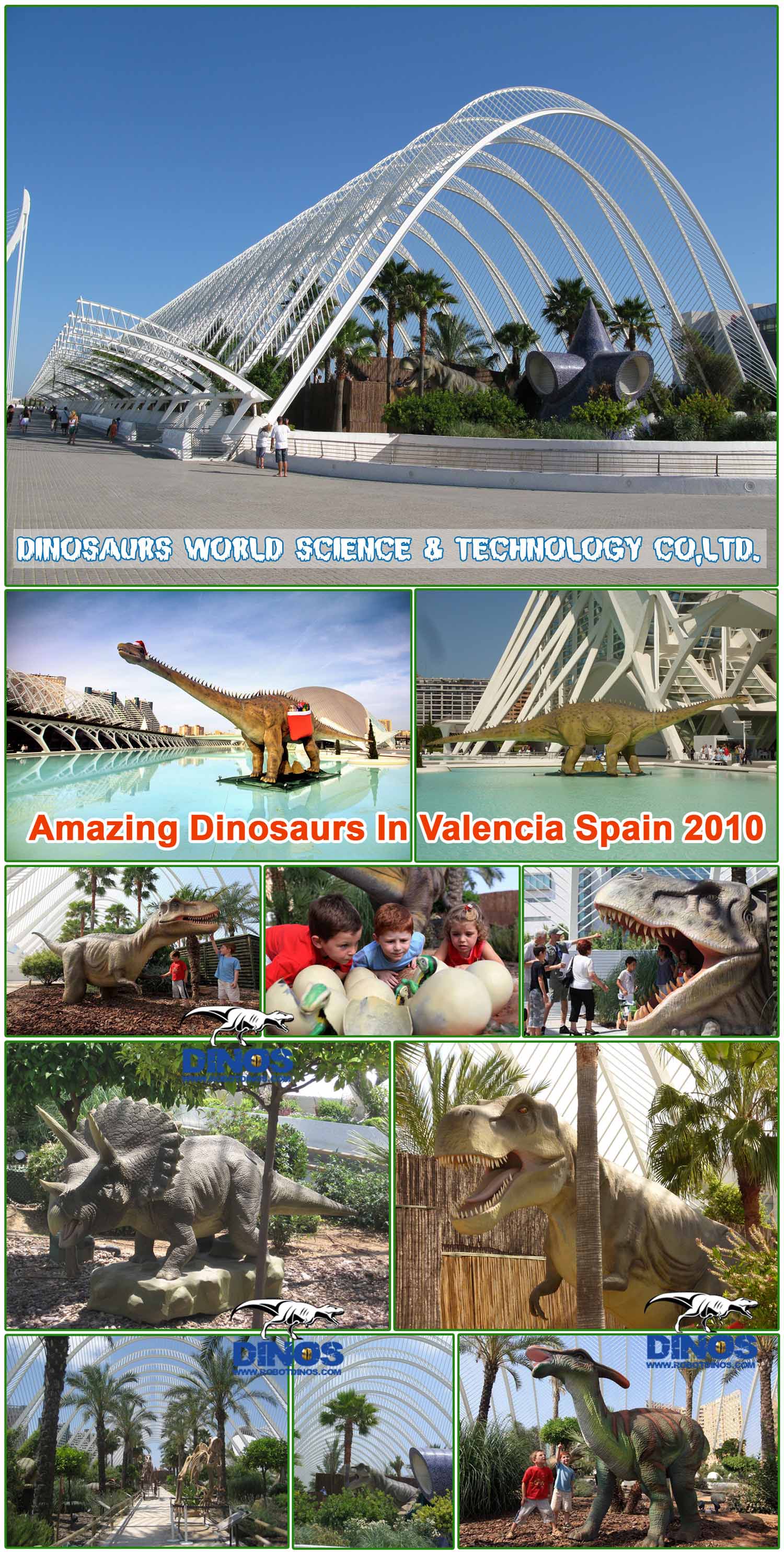 16 Units Animatronic Dinosaurs , Skeletons replica and Kids Entertainment Models Ordered From Croatia Clients 2011
May 2011 , Croatia clients ordered 16units animatronic dinosaurs , dinosaur skeleton replica , fiberglass dinopark entrance as well as some kids entertainment models such as kids riding dinosaur , dinosaur eggs , dinosaur park car , spider from us for their theme dinopark. The following is the advertisement from customers website " Our theme park dinosaurs world like to take you on a journey through time to the forgotten world "
Lets enjoy your dinosaurs park trip in Croatia !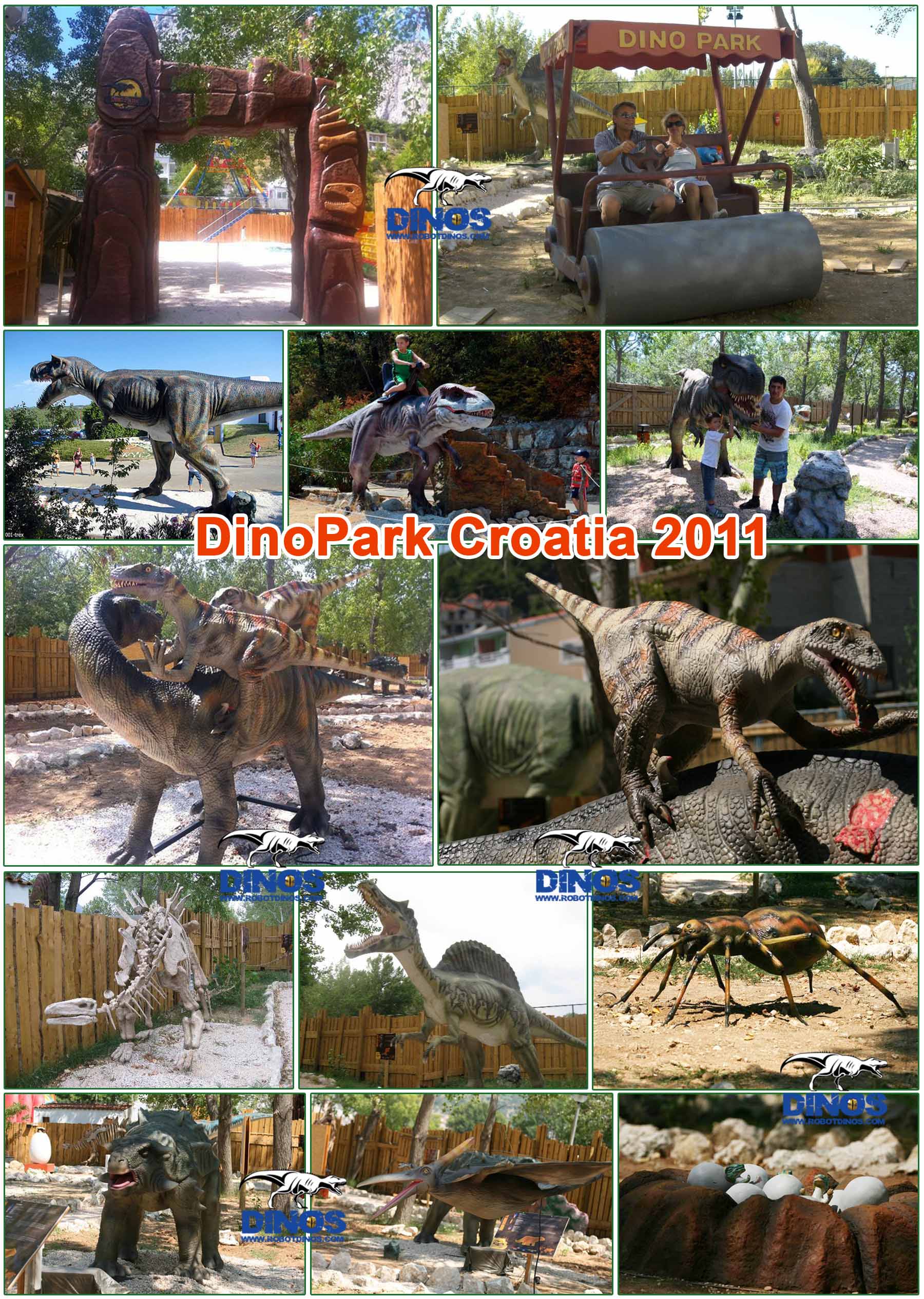 28 Units Life Size Animatronic Dinosaurs and Dinosaur Skeleton Ordered From Czech Republic 2011
After 3 years cooperation , Czech Republic clients opened his fifth theme dinosaur park in 2011. This park is in Prague and over 2000 overseas visitors been to this jurassic place each day to see the wonderful dinosaurs creatures that they have ever seen in this world . This great touriest place will take you on a jurassic world trip . See the life size , moving giants from the past , 1:1 , face to face !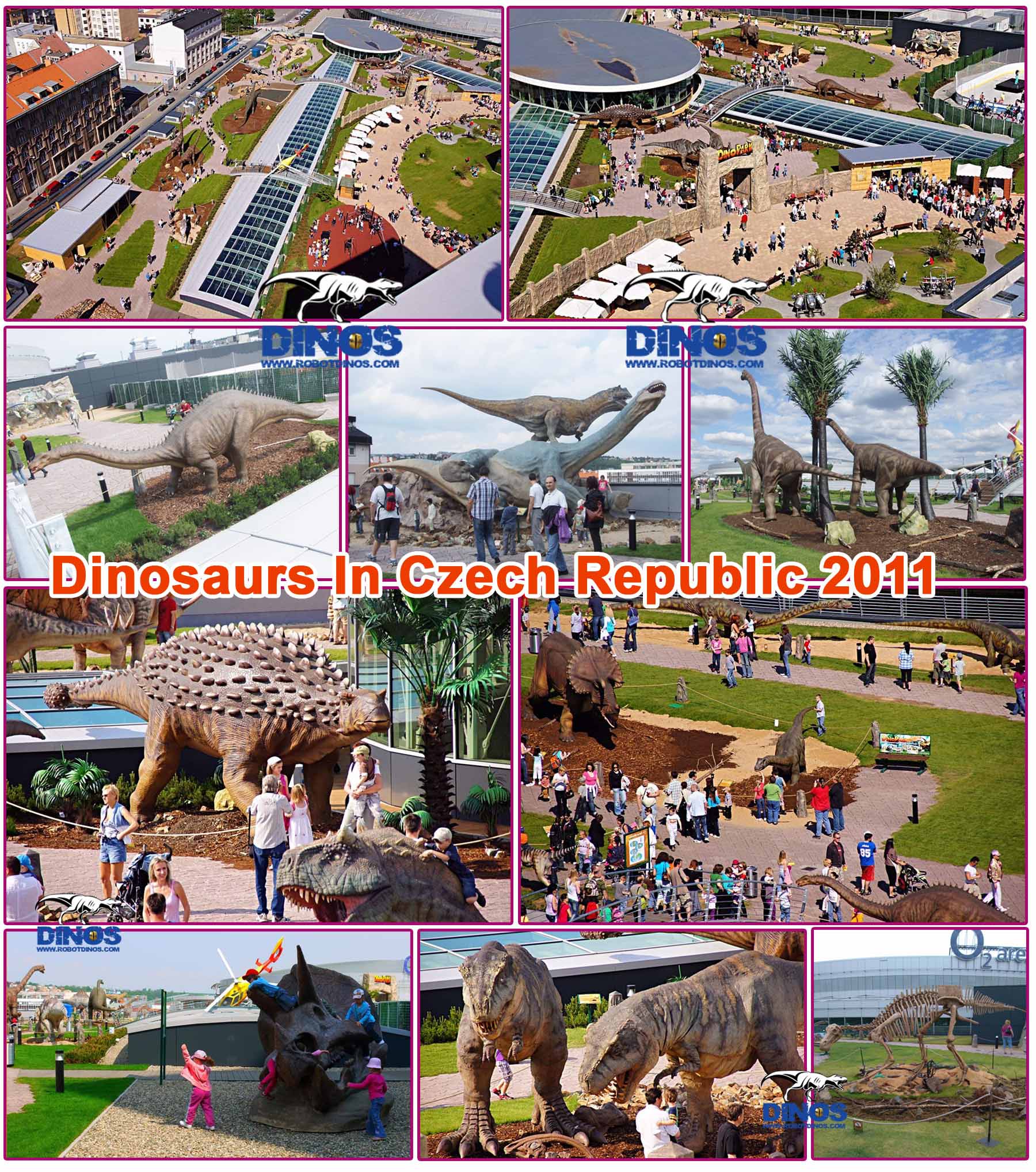 52 Units Animatronic And Fiberglass Dinosaurs Ordered From Poland Amusement Park 2012
More than 52 units life size dinosaurs ordered by Poland clients for their amusement park in Solec city , these dinosaurs were installed in their most eye-catching position in the three different parks. The first order is eight pieces of dinosaurs inlcuinding T-rex , Spinosaurus and Dilophosaurus riding etc… , just over 3months , they give us 44units animatronic dinosaurs order again , after dinosaurs arrived in the three different parks , their business are getting much better and better . We are now discussing the further cooperation for their two water parks in Poland.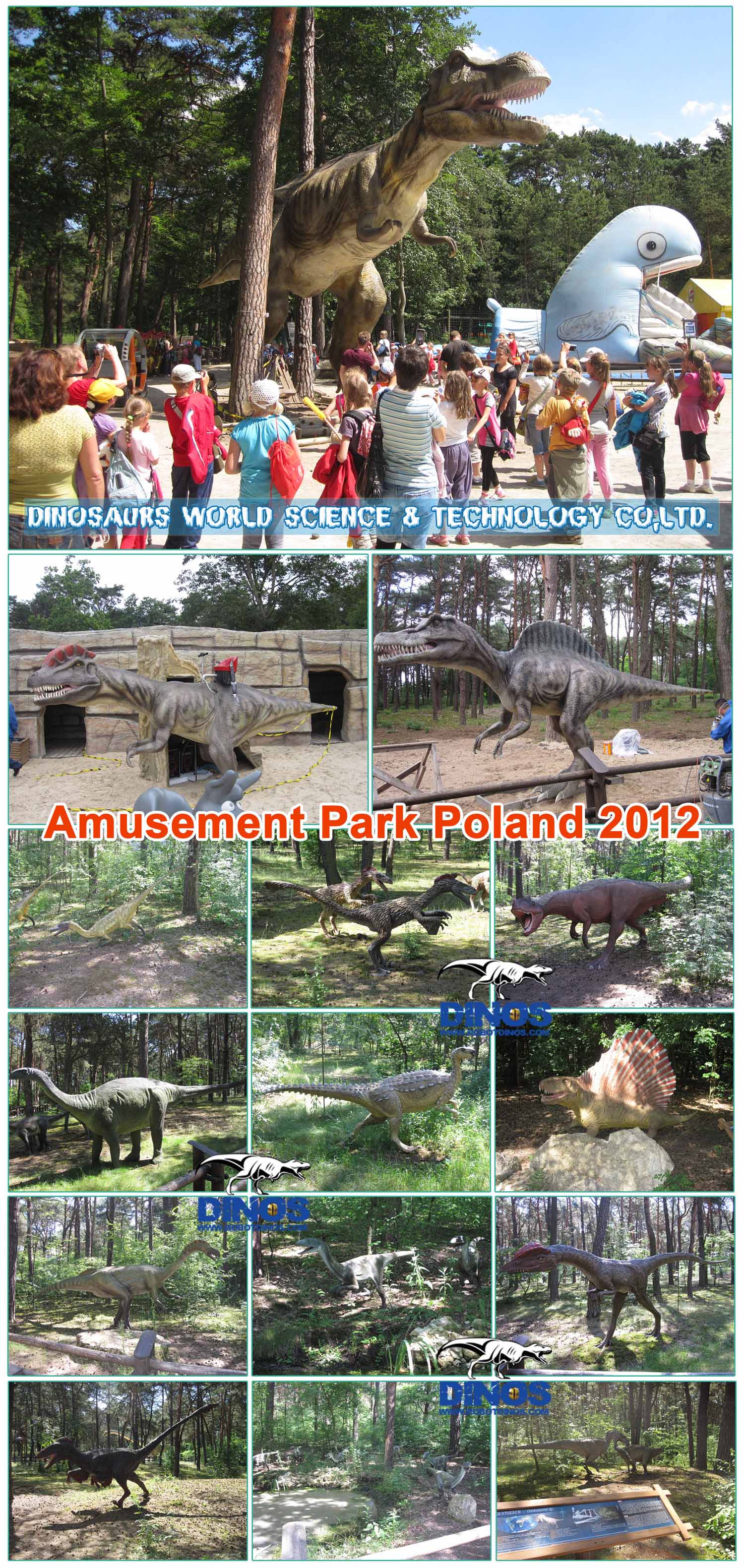 35 Units Ice Age Animals And Kids Skating Aid Ordered From Brazil Customer 2013
Have you ever seen ice age animals such as Glyptodont , Big Mammoths , Rhinoceros , Megatherium , Saber Toothed Tiger or Giant Beaver before ? After 2 years project discussing , customer from Brazil ordered over 35 units ice age animals and penguin skating aid from us in 2013 for their SnowLand indoor exhibition. Please go to capital city Brasilia in Brazil for seeing such amazing ice age animals. People there can skating by our penguin skating aid , touch the body of different ice age animals and get a free small animals toys for the gift in the store.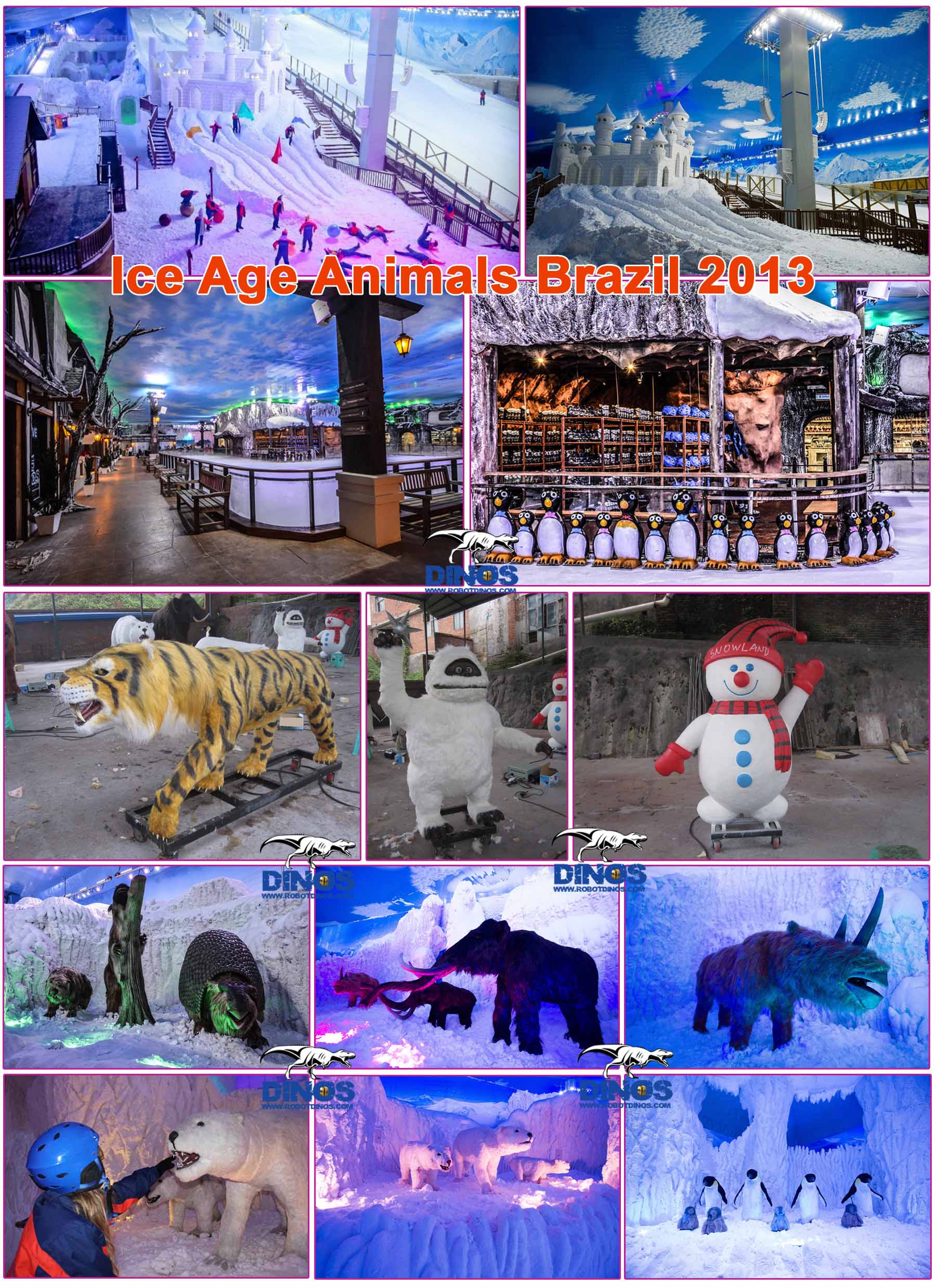 16 Units Robotic Dinosaurs , Dinosaur Skeleton Replica , Kids Dig Fossils and Kids Riding Dinosaurs Ordered By Netherlands Museum 2013
Customer in Netherlands ordered 16 units robotic dinosaurs , kids dig fossils as well as some fiberglass kids riding dinosaur from us in 2013 for their dinosaur museum , whatever the dinosaurs displayed at indoor or outdoor playground , they must become the best attraction for the visitors. Iguanodon attacked by three raptors and kids dig fossils in the photos is one of our most hot sale models in our company.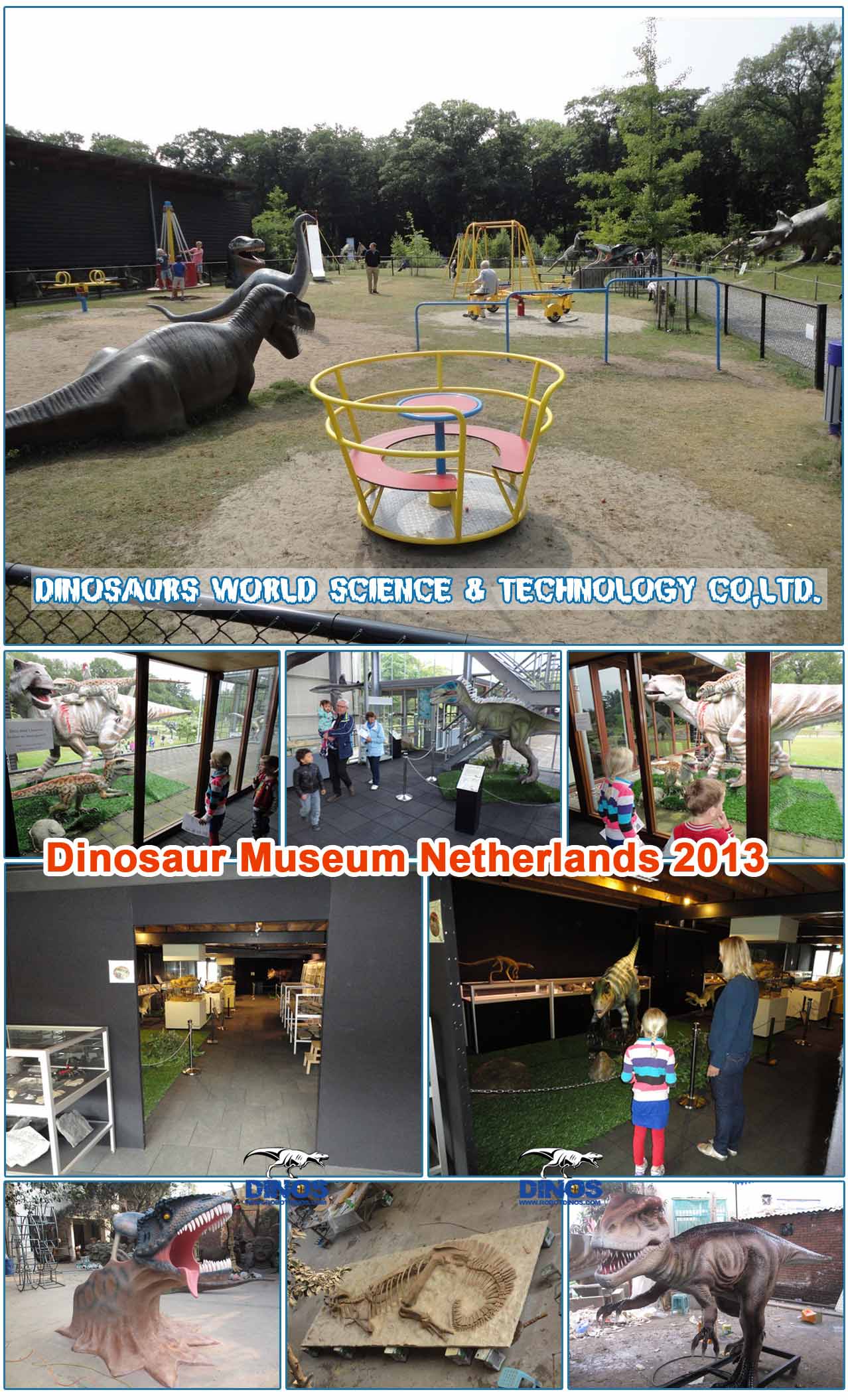 Over 14 Units Big Ice Age Animals Ordered By Venezuela Clients 2013
Over 14 units big ice age animals models have been installed in the biggest shopping mall in Venezuela. Over thousands of visitors go through this shopping mall in one hour . All these giant animals are made handwork by our engineers , 1;1 , realistic , alive looking with movements and sound . Do you like to go shopping with these prehistorical age animals beside you ?
After 3 months , these ice age animals will moved to their new home named MARACAIBO , another coastal city in Venezuela and start their new life 🙂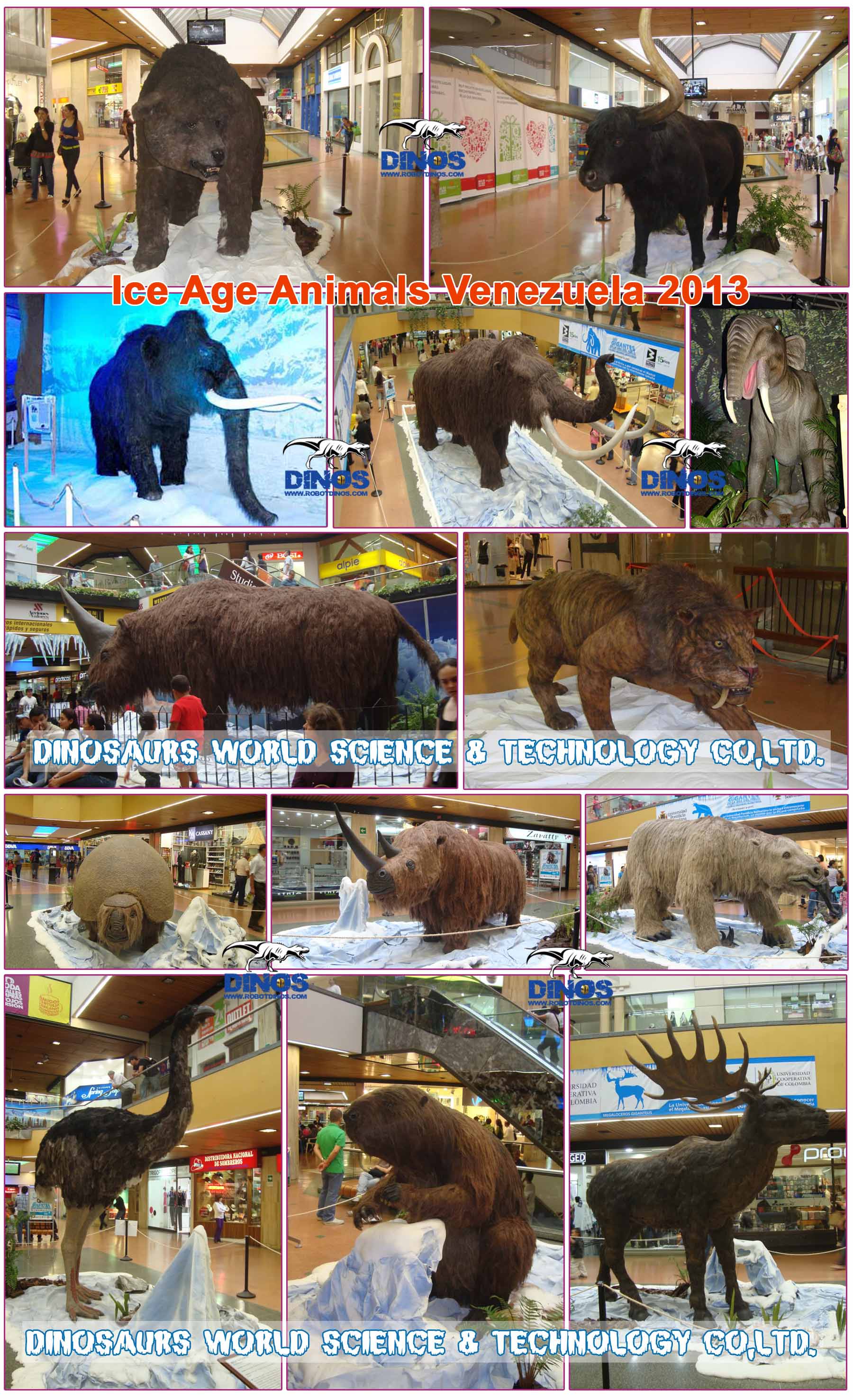 Over 80 Units Animatronic Dinosaurs Ordered By UK Clients From 2008 – 2015
After the great dinosaurs exhibition at Oxford Street London 2008, customer moved all dinosaurs to their golf courses in 6 different places in the UK . And from 2008-2015 , they ordered more than 80 units different kind of robotic dinosaurs from us , which have been installed in Jurassic Encounter Adventure Golf Courses . Visitors there can play golf , eating nice food , see the beautiful decorations as well as photos with these amazing life size dinosaurs. The order quantity for us for the regular golf park and new golf park in New Meldan is over five 40feet containers each year. 
300 Units Animatronic Dinosaurs , Dinosaurs Skeleton etc…… Ordered By Czech Republic Clients From 2008-2015
Over 7 years cooperation , our customer in Czech Republic Opened their 8th dinosaur park in Spain , over 300 units different kind of animatronic dinosaurs , dinosaur skeleton as well as prehistorical animals have been displayed in the 8th different dinosaur parks , the order quantity for the 7 dinopark in Czech republic and 1 dinopark in Spain is around Eight 40feet containers each year . Millions visitors been to the 8 different dinoparks and seen our life size and realistic dinosaurs each year. Now customer is definitely regarded as the biggest company for dinoparks in the whole Europe even in this whole world.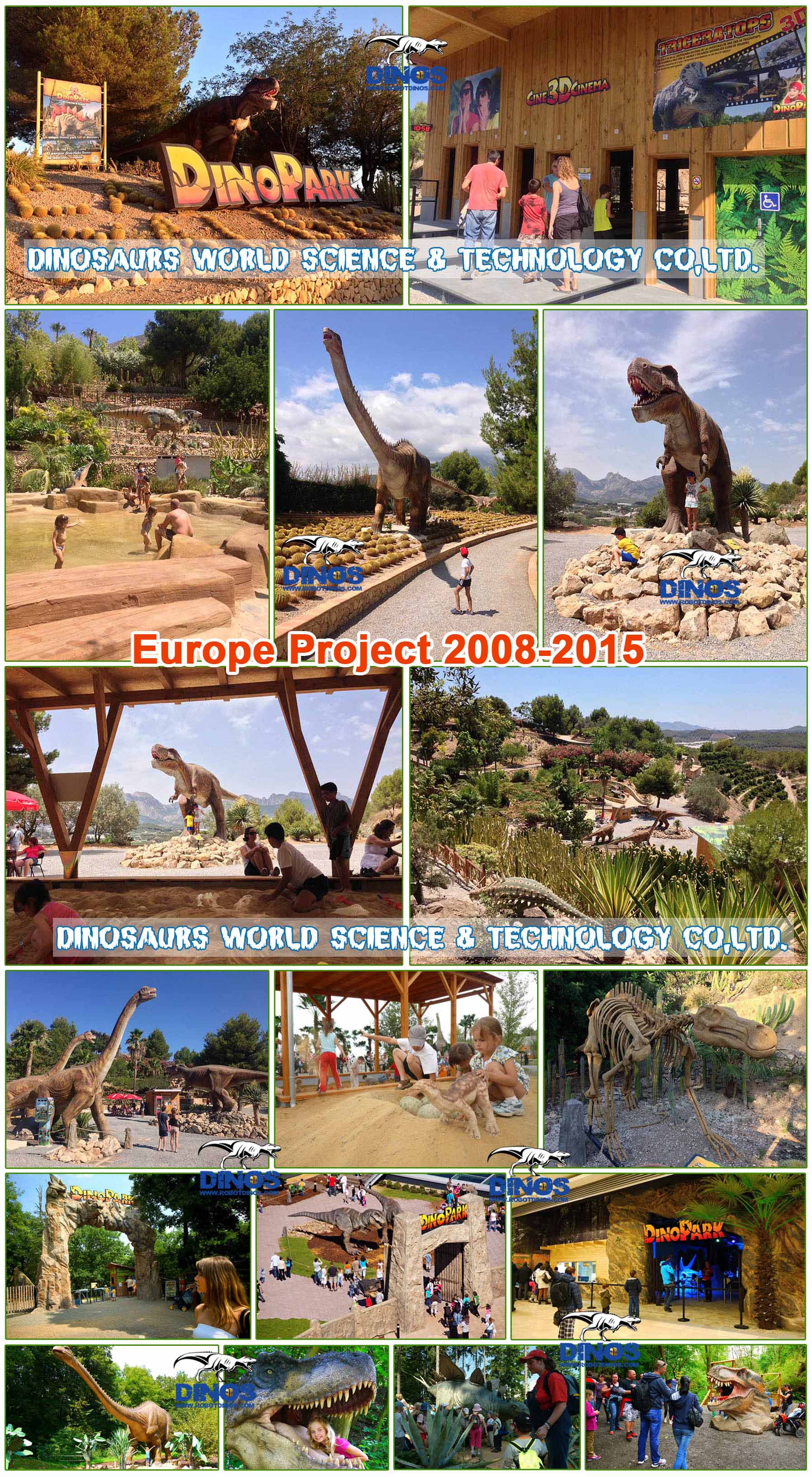 More Than 500 Units Animatronic Dinosaurs Models Ordered By Our Overseas Clients Each Year !
Each year we provided more than 500 units different kind of animatronic dinosaurs , dinosaur skeleton , dinosaur fossils replica , dinosaur costume , animatronic animal , ice age animals , kids dig fossils , kids riding dinosaur , walking dinosaur ride , fiberglass characters and other entertainment models for our overseas clients worldwide . Whatever you have your own dinosaur park ,kids playground , museum , amusement park , event party or you have customer who want have attraction exhibition show , for sure , dinosaurs are your first and best choice !
Our purpose is to develop and grow up with our customers together step by step and highly appreciated the long term business relationship with our clients . Let's enjoy the world of dinosaurs and hope our cooperation will let your business getting much better and leave a deep and unexpericed feeling to your own customers !